Boise Personal Injury Lawyer
Welcome to Meyer Injury Lawyers – Advocates for Your Rights and Recovery
At Meyer Injury Lawyers, we understand the challenges and hardships that arise from personal injury. Whether you've suffered from an accident, negligence, or wrongful act, our dedicated team of personal injury lawyers in Boise are committed to advocating for your rights and ensuring you receive the compensation and justice you deserve.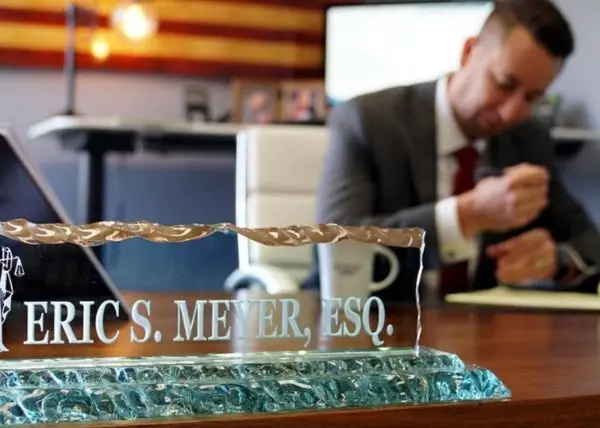 When Do You Need a Personal Injury Lawyer?
Understanding when to seek the help of a personal injury lawyer is key to protecting your rights and interests after an injury. At Meyer Injury Lawyers, we believe in empowering our clients with the knowledge to make informed decisions. Here are scenarios where consulting a personal injury lawyer is essential:
Serious Injuries or Long-term Disability
If you've sustained severe injuries or are facing long-term disability due to an accident, a personal injury lawyer can help you get compensation that reflects the severity of your situation.
Involvement in a Motor Vehicle Accident
Whether you're a driver, passenger, or pedestrian involved in a car, motorcycle, or truck accident, a lawyer can help navigate the complexities of insurance and liability.
Injury on Someone Else's Property
If your injury occurred due to unsafe conditions on someone else's property, a personal injury lawyer can help determine premises liability.
Use of Defective Products
If a defective product caused your injury, a personal injury lawyer could help in filing a product liability claim against manufacturers or distributors.
Insurance Company Challenges
If you're facing difficulties with insurance claims, such as denied claims or low settlement offers, legal representation is vital to protect your interests.
When Liability is Unclear or Multiple Parties Involved
Situations involving multiple parties or unclear liability can be legally complex, necessitating a lawyer's expertise.
Fatal Accidents (Wrongful Death)
In cases of fatal accidents, a personal injury lawyer can help the deceased's family pursue a wrongful death claim.
If You're Unsure of Your Rights
Even if you're uncertain about the viability of your claim, consulting with a personal injury lawyer can provide clarity and direction.
Types of Personal Injury Cases We Handle
At Meyer Injury Lawyers, we specialize in a variety of personal injury cases, each with its unique legal challenges. Our experienced attorneys are equipped to handle the following types of cases:
Automobile Accidents
Including car, truck, motorcycle, and bicycle accidents, we handle cases involving all types of vehicles, focusing on recovering compensation for injuries and damages.
Slip and Fall Incidents
We represent clients who have suffered injuries due to slips, trips, and falls on public or private property, involving issues of premises liability.
Product Liability Claims
If a defective or unsafe product has caused injury, we pursue claims against manufacturers, distributors, and retailers for their failure to ensure product safety.
Wrongful Death Cases
We provide compassionate legal representation for families pursuing compensation for the untimely death of a loved one due to negligence or wrongful acts.
Dog Bites and Animal Attacks
Our lawyers handle cases involving injuries from dog bites or other animal attacks, addressing owner liability and pursuing fair compensation.
Pedestrian Accidents
We advocate for pedestrians injured by vehicles, addressing complex issues of road safety and driver negligence.
Brain and Spinal Cord Injuries
Specializing in severe and life-altering injuries, we pursue comprehensive compensation for long-term care and rehabilitation.
Burn Injuries
Representing clients who have suffered severe burn injuries, whether from accidents, workplace incidents, or product malfunctions.
Nursing Home Abuse and Neglect
Advocating for the elderly or vulnerable individuals who have suffered abuse or neglect in nursing home facilities.
Recreational Accidents
Handling cases involving injuries sustained in recreational activities, such as boating, skiing, or sports-related accidents.
Pharmaceutical Litigation
If injuries are caused by defective drugs or improper pharmaceutical practices, our team is prepared to take on complex litigation against drug companies.
Insurance Bad Faith
We also assist clients facing unfair treatment by insurance companies, ensuring they fulfill their obligation of good faith and fair dealing.
At Meyer Injury Lawyers, we understand the intricacies of each type of personal injury case and are committed to providing thorough and effective legal representation to ensure our clients receive the justice and compensation they deserve.
Common Injuries That May Require a Personal Injury Attorney
When you suffer an injury due to someone else's negligence or wrongdoing, it's crucial to know when to seek the expertise of a personal injury lawyer. At Meyer Injury Lawyers, we have experience in handling a broad spectrum of injury cases. Below are some common injuries that often necessitate legal representation:
Traumatic Brain Injuries (TBI)
Injuries to the brain can have long-lasting effects on cognitive function, emotional well-being, and overall quality of life. TBIs often occur in vehicle accidents, falls, or sports-related incidents.
Spinal Cord Injuries
These injuries can lead to partial or complete paralysis, requiring extensive medical treatment and often resulting in long-term disability.
Broken Bones and Fractures
While some fractures can heal relatively quickly, others may lead to chronic pain or mobility issues, impacting your ability to work and perform daily activities.
Neck and Back Injuries
Including herniated discs and whiplash, these injuries can result in chronic pain and may require ongoing physical therapy and medical care.
Burn Injuries
Severe burns can cause not only extreme pain but also infections, scarring, and disfigurement, necessitating prolonged medical treatment.
Amputations and Loss of Limbs
Accidents involving severe trauma can result in the loss of a limb, significantly impacting a person's life and livelihood.
Soft Tissue Injuries
Such as sprains, strains, and tears, these injuries can cause pain, swelling, and reduced mobility, often requiring physical therapy.
Psychological Trauma
Accidents can leave lasting psychological impacts, such as post-traumatic stress disorder (PTSD), anxiety, and depression.
Electrocution Injuries
These can occur in various settings, including at work or due to faulty products, leading to burns, nerve damage, and cardiac issues.
Internal Injuries
Damage to internal organs can be life-threatening and typically requires immediate medical attention and long-term care.
Exposure to Toxic Substances
Chemical exposure can lead to various health issues, including respiratory problems and chronic illnesses.
Dog Bites and Animal Attacks
These can result in both physical injuries and psychological trauma, sometimes necessitating reconstructive surgery.
Recognizing the severity and long-term impact of these injuries is crucial in deciding to seek legal assistance. At Meyer Injury Lawyers, we are dedicated to helping you navigate the legal process to secure the compensation and support needed for your recovery.
Why Choose Meyer Injury Lawyers for Your Personal Injury Case?
Experienced Legal Professionals: Our team comprises of knowledgeable and experienced personal injury attorneys equipped to handle a wide range of cases.
Client-Focused Approach: We believe in a personalized approach, taking the time to understand each client's unique situation and tailoring our legal strategies to maximize compensation.
No Recovery, No Fee Policy: We operate on a contingency fee basis, meaning you won't pay any legal fees unless we successfully recover compensation on your behalf.
Proven Track Record: Our firm prides itself on a history of successful settlements and verdicts, reflecting our commitment to achieving the best possible outcomes for our clients.
Contact Meyer Injury Lawyers Today
If you or a loved one has suffered a personal injury in Boise, don't navigate this challenging time alone. Contact Meyer Injury Lawyers for expert legal support and representation. We are here to help you recover the compensation you need to heal and move forward.
FAQs
Dealing with a personal injury can be overwhelming, and you likely have many questions about your rights and the legal process. Here are some frequently asked questions that our clients often have:
What Qualifies as a Personal Injury Case?
A personal injury case typically involves an injury to a person that is caused by someone else's negligence or intentional act. Common examples include car accidents, slip and fall incidents, medical malpractice, and workplace injuries.
How Long Do I Have to File a Personal Injury Claim in Idaho?
In Idaho, the statute of limitations for most personal injury claims is two years from the date of the injury. It's important to act promptly to ensure your case is filed within this timeframe.
How is Fault Determined in a Personal Injury Case?
Fault is determined based on negligence and liability. This involves proving that the other party had a duty to ensure safety, breached that duty, and caused your injury as a result. Evidence like accident reports, witness statements, and expert testimony are crucial.
What Kind of Compensation Can I Expect in a Personal Injury Case?
Compensation, or damages, can include medical expenses, lost wages, pain and suffering, and sometimes punitive damages. The amount depends on the specifics of your case, including the severity of your injury and its impact on your life.
Do I Really Need a Lawyer for a Personal Injury Claim?
While you're not required to have a lawyer, personal injury law can be complex. A lawyer can help you navigate the legal system, deal with insurance companies, and ensure you receive fair compensation.
How Much Will a Personal Injury Lawyer Cost?
Most personal injury lawyers, including Meyer Injury Lawyers, work on a contingency fee basis. This means you pay no upfront fees, and lawyer fees are only collected as a percentage of your settlement or award.
What Should I Do If I'm Offered a Settlement?
Before accepting any settlement offer, it's advisable to consult with a personal injury lawyer. We can help assess if the offer fairly compensates for your injuries and negotiate for a better settlement if necessary.
Can I Still File a Claim If I'm Partially at Fault for My Injury?
Yes, Idaho follows a comparative negligence rule. This means you can still recover damages even if you were partially at fault, but your compensation may be reduced by your percentage of fault.
How Long Does a Personal Injury Case Take to Resolve?
The duration varies based on the complexity of the case, the willingness of parties to negotiate, and the court's schedule. Some cases resolve in a few months, while others can take years.
Need More Information? Contact Meyer Injury Lawyers
For more specific information or to discuss your personal injury case, contact us for a consultation.